Byzantine Orthodox Church
sm
Roman Catholic Pope Benedict XVI Retired as Pope on Feb. 28, 2013. He is the first Pope to retire from this office in about 600 years. He will live on the Vatican grounds in a former Convent.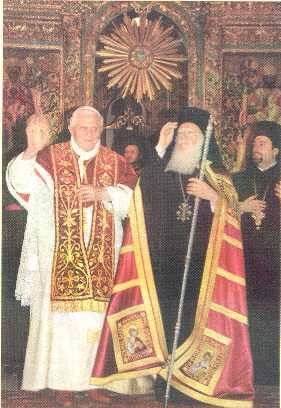 Ecumenical Patriarch Bartholomew and Pope Benedict blessing the faithful at the Holy Shrine of Orthodoxy.
Quote from Pope Benedict: (Political leaders should...) protect life from concepion to natural death. We agree with this statement.
+ + +
Index
We are not part of the Roman Catholic Church, nor are we under the Pope. We are recognized as a canonically established Orthodox Church that can, by canon law, offer the Mysteries (Holy Communion) to Roman Catholics within our liturgy.
Notice
This old established Church seeks financial assistance in buying property to allow us to grow. We seek a Church Bldg. and some property for a Monastic community as well as grounds for a cemetery. A Benefactor could greatly help is to continue our ministry in a true Othodox manner. We also seek a small older pickup truck. One over 25 years old would be ideal for our needs.
+ + + + + + + + + + + +
Under the Omophorion
of
His Holiness
Patriarch Nikon
~ ~ ~ ~ ~ ~ ~ ~ ~ ~ ~ ~
On Feb. 2nd, 1927 our Mother Church was established by the Russian Orthodox Synod of Bishops in North America (Moscow Patriarchate) as an Autonomous and Autocephalous Church. The reasons were clear that an independent American jurisdicion was needed to be the Anchor of Orthodoxy in the New World.
Archbishop Ofiesh of the Syrian Mission who was a member of the Russian Orthodox Synod was appointed to head this new Churh. This new Church was established due to the turmoil in Russia.
Some will claim Sophronos was consecrator of Christopher Contogeorge. The document we have for Contogeorge's consecration was on the Letterhead of Theophan Noli and bears the signature of (a) Sophronios which could indicate a co-consecrator or a witness. What is plain is that only 2 bishops were party to this consecration contrary to the canons of the Orthodox Church. We could find no proof showing a Mandate was issued by this Synod for this Ordination.
The Church has received a letter from a Roman Catholic diocese that our clergy may offer communion within our liturgy to Catholics and our clergy have been asked to concelebrate the liturgy with Roman Catholic clergy. Other documents are also in our archives showing Catholic recognition.
+ + + + + + +
The Synod has attempted to establish communication with other traditional Orthodox Churches. Under our present leadership the Synod has approved the use of the Western Rite St. Andrew Service Book of the Antiochian Christian Archdiocese. This is the only canonically approved Western Rite for use in the USA at this time. We use the Byzantine Uniate Eastern Liturgy also.
If you have any questions about anyone claiming to be a member or clergyman of this Church do not hesitate to e-mail us at the address at the bottom of this page.
+ + + + +
For Our Catholic friends
Franciscan Crown Rosary 1
Franciscan Crown Rosary 2
We offer a printed version by mail. We ask for a $1. donation to help cover our expenses.
+ + + + + +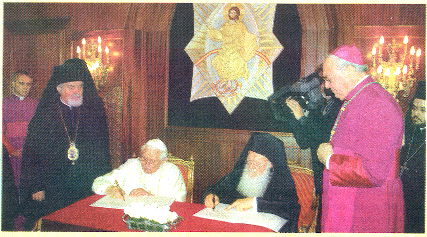 Signing the Common Notification
+ + + + + + + + + +
Website Copyright 2010
The Byzantine Orthodox Church
All Rights Reserved
Notice:
Do Not Link or Copy without written permission.
Email: byzantine_orthodox@msn.com
Candidates for Ordination